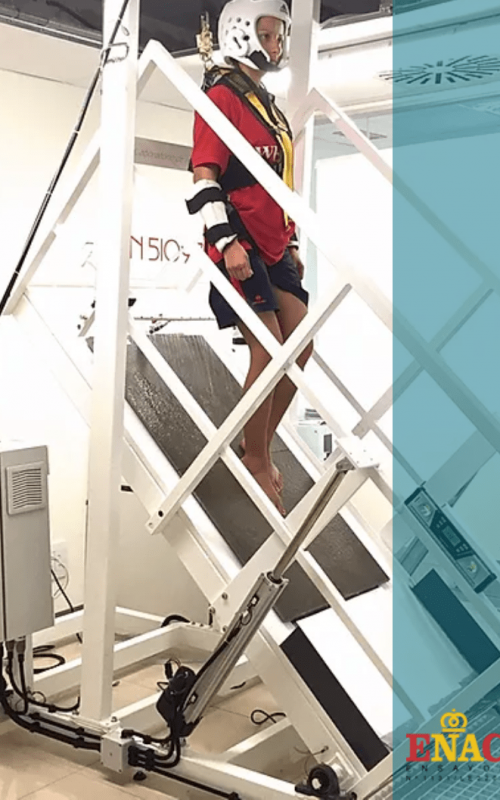 19 ENAC accredited slippage tests
This standard establishes a procedure for conducting an aptitude test and investigating and classifying the slip resistance of floor coverings, the application of which is intended for places and work areas where there is a risk of slipping. The angle of inclination of the inclined surface marks the limit in which the person conducting the test walks safely on the surface (critical angle).
The two technicians performing the test with the calibrated homologated shoes walk in an upright position back and forth on the surface to be tested, from a position on the plate that starts horizontally and gradually slopes until the critical angle is reached. The critical angle is calculated on a coating on which a lubricant has been applied. The critical angle reached is used to assess the degree of slippage. Possible subjective influences on the critical angle are limited through the calibration procedures.
For the calibration of the process there are three standards in relation to floor coverings St-I, St-II and St-IIIA [Footnote 3, which reads: "The references on these three flooring standards are provided by the Standards Committee Materials Test (NMP) of DIN, Burggrafenstraße 6, 10787 Berlin. "]), whose critical angles α have been set after extensive research work and how they are established as standards of the critical angle αS, St-I, αS, St-II and αS, St-IIIA.